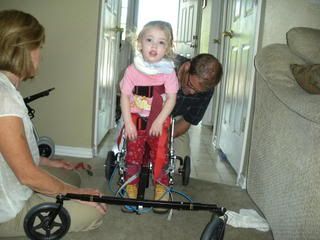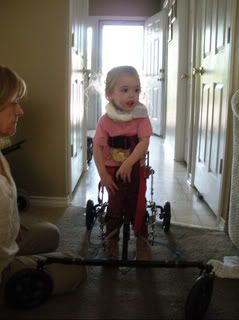 Here are some pictures or a new walker that we are looking into for Makenzie. She did so well in it!!!! Yeah!!! We have been on a quest for the right walker for about 4 months!!! When we started looking we were only going to use it as a "stander" for weight bearing untill she was ready to start taking steps............. Well she is ready!!!!! She took a bunch of steps....... most were somewhat refexive but it is the movement that counts!!!! She has come SO far!!!!

Part C early intervention team has a meeting every Monday. Makenzie's PT went armed with video from our therapy session earlier in the morning of Makenzie....... of course!!!! All of the therapist there we AMAZED at her progress since the last video taken a month ago!!!

We went to the Mint this afternoon to show the boys where our money is made. We had a great time. It is amazing how many coins are made on a daily bases!! After our tour we went to the park and had a mini picnic in the park. The boys had a great time chasing and feed in the ducks!

Makenzie is now napping. When she wakes up we are going to go to a concert in the park for another picnic for fathers day with my family. It should be a good time!

We have also put Makenzie on a double dose of previcid(acid refux medicine). She is up to 58cc an hour!!!! She has also gained almost a pound in one week!!! 1.5 more pounds untill we will try bolus feeds again through her stomach!!! Please start praying for this to go well!!! Please also pray that she continues to eat well orally! She has continued to improve every day but still has a long way to go befor she can be tube free!!

That is about it for now! Please keep praying for Makenzie! God listens and wastes nothing! We are so proud of the fight in Makenzie and feel so blessed by God's Grace and Mercy!!! To God be the Glory!!!!