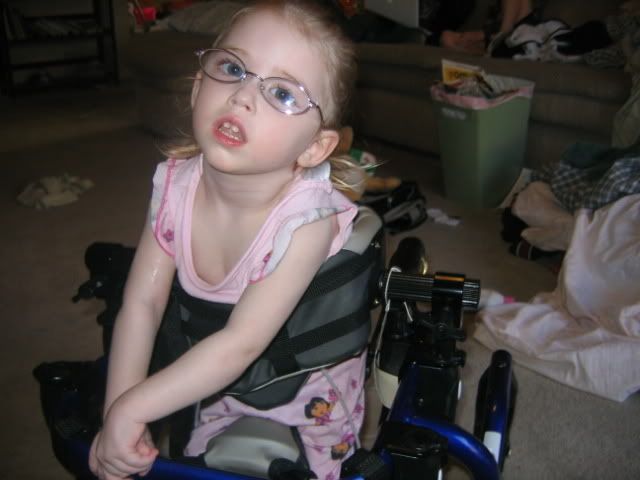 Today started early with a feeding pow wow. We sat and discussed Makenzie's GJ feedings and when would be the best time to feed her orally. I will begin to feed Makenzie around lunch time and dinner! We are going to start with small amounts and add more volume as she will tolerate. Her therapists are going to focus of feeding along with some sensory issues.

We had a good PT session this morning as well! Right before PT I got a call from Therapies 4 Kids to confirm our therapy in Florida for next week and stated the session time as 1pm-4pm!! BIG OH NO!!!! From 1pm-4pm if Makenzie isn't sleeping she is winey, crabby and in no condition for therapy! I spoke with her for a while and she was able to fix the first and third week. I explained to her the reasons why it was so important to fix this and she told me not to worry. SO PRAY!

After PT we went and picked up Makenzie's new GLASSES! She was VERY upset when they put them on her...... to the point of puking! So I got her calmed down while she adjusted them. When she came back I put them on and went to the mirror and low and behold Makenzie stopped crying! I believe they really are helping her see much better because that was the last time all day she protested me putting them on! They did not get adjusted just right so I will need to take them in to a different optical shop that does pediatric fittings! One more errand to run tomorrow! Oh well Makenzie is so worth it!

We will be going back to the Preschool tomorrow. I called Child Find and explained why I wanted to view a full morning of class and she agreed that it would be both help to me and helpful while writing her IEP! She told me that she would have the teacher call me of she would call by today so that we could work out getting there by 8am instead of 10:15am! No one called!!!!! So I am debating what to do. If I show up at 8 am the worst that could happen is that they could tell me to come back later. I need to do this tomorrow because this is the only morning this week that will work and school we be out for the summer by the time we get home from Florida!

Well I guess I better get going! The little princess just woke up! So much for a break! Keep praying!