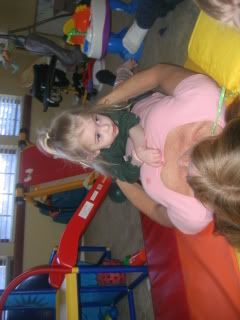 Well, today was another great day! Makenzie laid on the floor today in PT on her tummy with her head all the way up look aroud and supporting herslf with her elbows! She also sat up unassisted 3 times today for a few seconds! This is the first time she has done that since Adam's Camp! God is so good! I am just in awe of how powerfull His healing is!

We went to the school tonight for a Multi Cultural Fair. It was a lot of fun. The kids all got their faces painted and were sooo cute! Please keep praying for Makenzie! She is doing so well!

"Our present troubles are quite small and won't last very long. Yet they produce for us an immeasurably great glory that will last forever!" (2 Corinthians 4:17)

Dear Lord,
There are times when the troubles we face seem overwhelming and when the future seems to hold no hope. Thank you for this reminder in 2 Corinthians 4:17 that what we are facing in this day is quite small and won't last very long compared to the immeasurably great glory that will last forever. Thank you that you have made a way for every member of this family to tap into your everlasting glory. Thank you that your love transcends our present struggles and will carry us through. And thank you, Lord, that because of Jesus we are able to tap into that everlasting love and glory even today. Lord, I ask that each of us in this family would experience a touch of your glory today, and find a new sense of perspective and hope in the immeasurable glory to come!
In Jesus' Name,
Amen.
This is a prayer that was emailed to me today in my daily prayer from Child of destany. To God be the Glory! He has given us so much!